Welcome to The Prayer Wall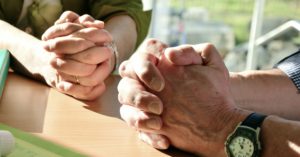 We invite you to scroll through the prayer requests and offer up prayers and intercession for those listed.
If you have a prayer request please submit yours by using the SHARE BUTTON BELOW.  We will add it to the prayer wall or you have the option of keeping your request confidential. We will join with you in prayer.
Praise Report? We would like to rejoice with you!
You may also use the prayer request form to submit your praise report.
You may add your prayer request to our prayer wall using the form below. Please Enter "submit request" AFTER verifying "I'm not a robot". Once your prayer request is received, we will share it according to your instructions. Feel free to submit as many prayer requests as you like!
[We read] In the King James Bible, Ezekiel 22:30: "And I sought for a man among them, that should make up the hedge, and stand in the gap before me for the land, that I should not destroy it: but I found none."
O God, please help us and teach us to build a wall [of prayer] around the USA, Canada, Poland and Great Britain. Are you ready to stand in the gap, where God is the Helper and Teacher?
Please pray that Great Britain, Poland, the USA/Canada would overcome for: (The Acts 26.18).
* Poland, pray for freedom from dead religion to saving faith of Jesus Christ as the Saviour and the Lord by faith only,
* the Church in the USA & Canada & Great Britain – Pray for repentance and cleansing of the church - Matt. 3.12 "Whose fan is in his hand, and he will thoroughly purge his floor, and gather his wheat into the garner; but he will burn up the chaff with unquenchable fire."
* my family:
1. Stir up the hearts of my family for ministry for me, my wife Dorothy, our daughter Ann, and our sons Peter and Daniel - "..but as for me and my house, we will serve the Lord" Joshua 24.15
2. Pray for God's will, wisdom, discernment, revelation and recognition for me and my family; I ask God for Edmund's work situation, God's direction for Edmund , Dorothy, Peter, Daniel and Ann (also God's protection over the company where she works),
3. God's order in my work. I ask God for great wisdom at my work. Blessings and the knowledge of Jesus Christ for my bosses. Thank God for the continuation of my work.
Edmund & Dorothy Krzeminski
Received: October 13, 2019
This prayer has been

answered!

We're giving praise to God for sharing His healing grace with Barnabas. He is now free of his cone and is able to participate in his normal activities. Thank you to each person who asked God to restore his health. Both Barnabas and I appreciate you.
Received: March 1, 2019
Update about our nephew Craig. The rate of Craig's disease have stabilized for now. He have, however, chronic fatigue that may be due to the medication he has to take. He has accepted the fact that he will need a kidney transplant some time in the future. His younger brother has volunteered but it has not been determined if he is a match or not. Please pray for a suitable donor when the time comes. Please pray that the Lord will put someone in Craig's life that can help lead him to the Lord.
Received: February 18, 2019
Note: We reserve the right to review and edit all prayer request content.